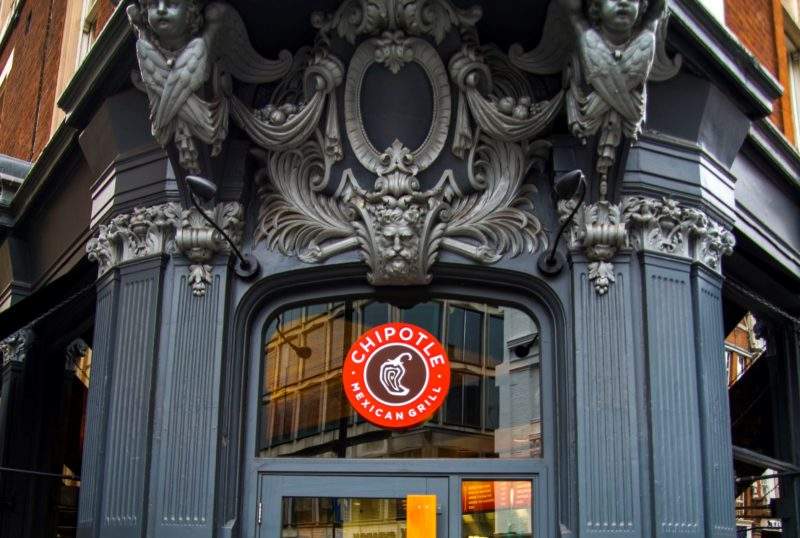 American restaurant chain, Chipotle Mexican Grill, saw its revenue increase by 14.7% last year to $4.5 billion (£3.23 billion) – having published its fourth quarter and 2017 year-end results yesterday (6 February).
For the year ended 31 December 2017, the company, which operates 2,408 stores worldwide, said the 14.7% "increase in revenue was driven by new restaurant openings" – having launched 183 and closed/relocated 25 throughout the year. Like-for-like restaurant sales were also up by 6.4%.
For the full year, Chipotle reported net income was up by $153.4m (£110.1m) from $22.9m (£16.4m) in 2016 to $176.3 million (£126.5m).
Group revenue stood at $1.1bn (£790m) for the fourth quarter – a like-for-like rise of 7.3% – while like-for-like restaurant sales were up by 0.9%. It again said the increase was largely due to new restaurant openings (38 during the quarter and 4 relocated/closed.)
Net income for Q4 2017 was $43.8m (£31.4m) compared to $16m (£11.5m) in 2016 – a $27.8m (£19.9m) rise.
Founder, chairman and chief executive Steve Ells commented: "2018 marks the 25th anniversary of Chipotle, and I am encouraged by the dedication all of our guests and employees have to this brand.
"Our focus this year will be to continue perfecting the dining experience, enhancing the guest experience through innovations in digital and catering, and reinvesting in our restaurants. We are making good progress on our search for a new chief executive who can improve execution, drive sales and enable Chipotle to realise its enormous potential."
Looking ahead this year, Chipotle hopes to continue its expansion worldwide – already operating in the UK, US, Canada, France and Germany – and open another 130-150 restaurants.