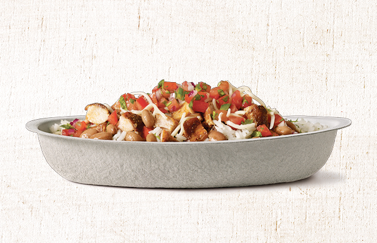 American fast casual restaurant chain Chipotle Mexican Grill has launched a special menu item in January, in partnership with Men's Health, the UK's best-selling magazine.
The new menu item consists of an extra super-packed chicken, lettuce, coriander-lime brown rice, and pinto beans topped off with fresh tomato salsa and Monterey Jack cheese, priced at £9.25.
James Dannatt, marketing manager, Chipotle in Europe, commented: "We are delighted to partner with Men's Health for this special menu item.  We already have a great fitness fan-base and our double-meat chicken bowl is a great way to increase your protein intake naturally, at the same time as eating something filling and delicious."
Chipotle recently launched a new online tool, Eat To Your Own Beat which helps customers find the right combination for their personal dietary needs, focusing on 11 diets, including: gluten free, high protein, vegetarian, vegan, paleo and dairy free.   The tool highlights which ingredient combinations are best and which to avoid.
The double-meat chicken bowl is available at all Chipotle restaurants 1st January – 28th February 2018.