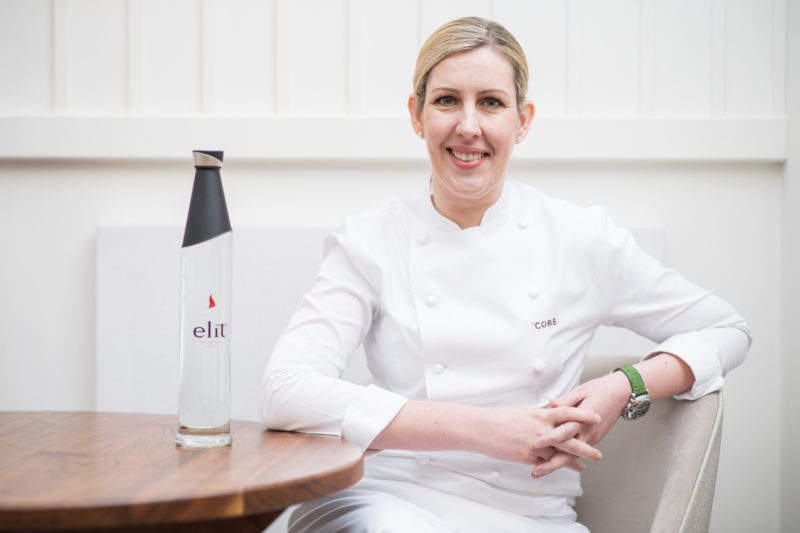 Clare Smyth, chef-owner of Core by Clare Smyth in London, has been voted as the elit Vodka World's Best Female Chef 2018 ahead of The World's 50 Best Restaurants awards ceremony in Bilbao, Spain on 19 June.
Accepting the accolade, Smyth said: "It's an absolute honour to receive the elit Vodka World's Best Female Chef Award, particularly as the category is voted for by my peers and international food experts. This accolade is not for me but for all the women working in the hospitality industry around the world. I hope to use this platform to encourage and mentor more women to achieve success."
Smyth, who grew up on a farm in County Antrim, Northern Ireland, was the first and only female chef in the UK to hold three Michelin stars, for Restaurant Gordon Ramsay, formerly known as Royal Hospital Road, in Chelsea, London. She worked with top British chef Ramsay for more than 13 years before opening her own modern fine dining restaurant, Core by Clare Smyth, in London's Notting Hill neighbourhood, in 2017.
Leaving Northern Ireland at the age of 16, Smyth worked in some of the most celebrated kitchens in the world, including Alain Ducasse's renowned Le Louis XV in Monte Carlo and Restaurant Gordon Ramsay, where she won a 10/10 score in the Good Food Guide and five AA rosettes. Smyth, now 39, was honoured with an MBE in 2013 for services to the hospitality industry.
William Drew, group editor of The World's 50 Best Restaurants, added: "We are proud and excited to announce Clare Smyth as this year's World's Best Female Chef. Her devotion to her craft, uncompromising standards and undoubted culinary finesse are just three of the reasons why she is worthy of this award. Clare's passion for the industry and her positive attitude towards equality in the kitchen similarly inspires us all. She is the perfect role model to show aspiring young chefs what can be achieved with hard work, patience, dedication and exceptional talent.
"This is an amazing opportunity to put women at the forefront, and at the same time inspire women all over the world that with passion, anything is possible" says Frances Gaillard, international marketing director of elit Vodka. "Pushing the limits of her profession, Clare Smyth is a fantastic chef and we are proud to support her continued influence in today's gastronomic culture. As a brand, to share ideas and knowledge with audiences allows us to be agents of culture not just marketing messages."
The award will be presented at The World's 50 Best Restaurants ceremony at the Euskalduna Palace in Bilbao on 19 June. The evening will also see the unveiling of the list of The World's 50 Best Restaurants 2018.