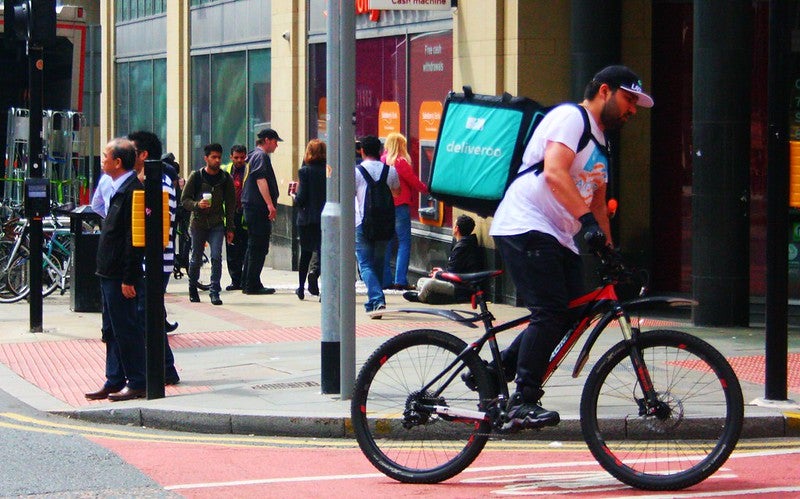 British food delivery company Deliveroo has slashed its full-year revenue outlook amid a fall in consumer spending due to rising inflation.
In a trading update statement, the company revised its gross transaction value (GTV) forecast for 2022 to between 4% and 12% in constant currency. The new forecast is significantly lower compared to its previous guidance of between 15% and 25%.
In the first half of the year, Deliveroo reported a 7% year-on-year increase to £3.56bn in GTV.
However, following a recorded group GTV of 12% in the first three-month period of the year, the second quarter witnessed a decrease to 2%.
In the UK and Ireland, GTV growth in constant currency fell from 12% in Q1 2022 to 4% in Q2 2022 while the figure plunged from 11% to 1% internationally.
The company statement said: "This is a slowdown in GTV growth compared to Q1 2022, which management believes reflects the impact of increased consumer headwinds during Q2.
"In Q2 2022, growth in orders was 3% year-on-year, while GTV per order reduced slightly year-on-year, as basket sizes were elevated during lockdowns for part of Q2 2021."
The company will release its full results for H1 2022 on 10 August.
Founded in 2013, Deliveroo offers deliveries from more than 170,000 restaurants and grocery partners. It has around 190,000 riders to offer its service.
Besides the UK, Deliveroo operates across 10 other markets, namely Australia, Belgium, France, Italy, Ireland, Netherlands, Hong Kong, Singapore, the UAE and Kuwait.
In May, McDonald's announced that its menu would be available on the Deliveroo app in the UK to meet consumer demand.