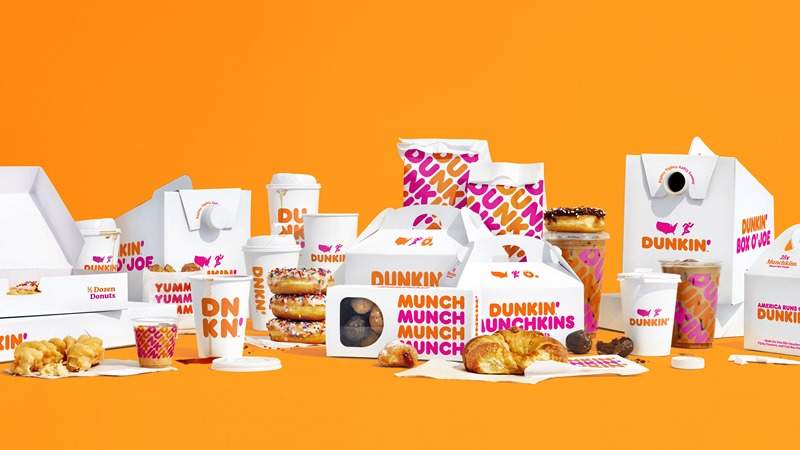 American coffee and bakery brand Dunkin' Donuts has revealed a new brand identity as part of efforts to 'transform itself as the premier beverage-led, on-the-go brand'.
Dunkin', the updated brand name, will be effective from January next year. The company has retained its pink and orange logo colours and font.
Dunkin' will feature the new branding on its packaging, advertising, website and social media channels. It will also feature the new logo on exterior and interior signage across new and remodelled stores in the US and globally.
Dunkin' US chief marketing officer Tony Weisman said: "By simplifying and modernising our name, while still paying homage to our heritage, we have an opportunity to create an incredible new energy for Dunkin', both in and outside our stores.
"The doughnut chain's recent transformation initiatives include a simplified menu."
"We are bringing the iconic name Dunkin' to the forefront in a bold way that brings to life how we refill optimism with each cup and bring fun, joy and delight to our customers each and every day."
The company has partnered with creative and branding agencies Jones Knowles Ritchie, BBDO New York and Arc Worldwide to develop the new branding.
The doughnut chain's recent transformation initiatives include a simplified menu, introducing beverages such as cold brew coffee, nitro coffee and iced teas, launching new products such as doughnut fries, focusing on on-the-go mobile ordering, and a next generation design concept.
Dunkin' Donuts isn't the first fast food chain to alter its name. IHOP underwent a temporary brand transformation earlier this year by changing its name to IHOB, International House of Burgers.
The chain intended to rebrand as a burger restaurant with the introduction of seven Ultimate Steakburgers.