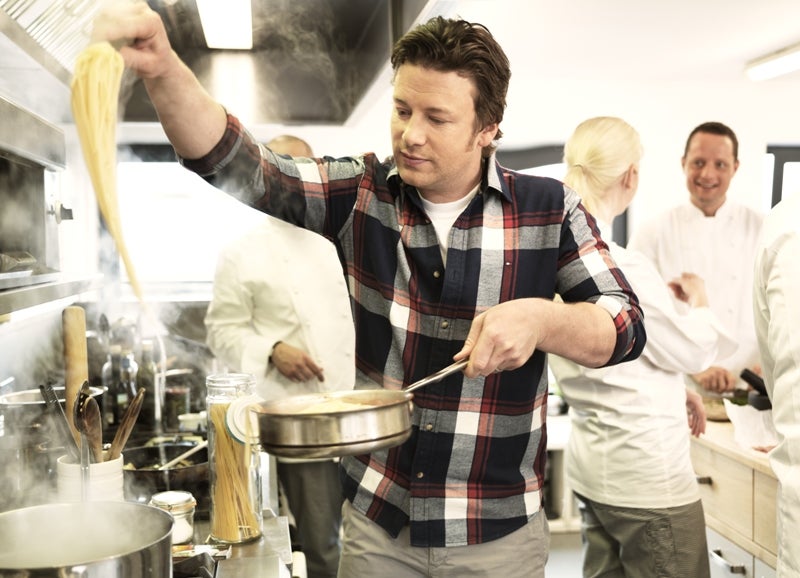 British chef and restaurateur Jamie Oliver, whose UK restaurant empire collapsed earlier this year, is launching a new chain of all-day casual dining concept restaurants later this month as part of an expansion of international restaurant operations.
To begin with, Jamie's Italian sites in Bali and Bangkok will be converted into Jamie Oliver Kitchens and opened under a partnership with franchisee HPL.
The Jamie Oliver Kitchen in Bangkok will offer a low and slow short rib cooked in massaman spices, as well as a soft-shell crab burger with a green papaya salad and sriracha mayonnaise, while the outlet in Bali will offer summer rolls, insanity burger, and beef cheek cooked in local spices.
The celebrity chef's UK restaurant business collapsed six months ago, forcing the business into administration in May. Efforts to bail out his business failed, resulting in the closure of 22 high-street sites. This included the UK arm of his Italian and training restaurant Fifteen London.
In a television interview in August, Jamie Oliver admitted that the collapse of the UK business was the result of complacency.
After the collapse, Jamie Oliver continued to expand his international reach, opening several restaurants under franchise. In September, he opened Jamie's Italian in Bergen, Norway.
Jamie Oliver said: "Over the past 20 years, I have travelled around the world to discover exciting flavour combinations, picking up incredible influences along the way. The new restaurants will bring those inspirations to life and serve some of my absolute all-time favourites."
Jamie Oliver Group chief executive Paul Hunt said: "While diners around the world continue to enjoy our established brands including Jamie's Italian, we wanted to add to our portfolio and create a concept that allows us to really showcase the best of Jamie Oliver, while giving our franchise partners in each market the flexibility to adapt menus to local tastes and trends."
Jamie Oliver's global portfolio comprises 70 restaurants in 27 markets. He is currently working with 20 franchise partners and plans to open 19 more by the end of 2020.