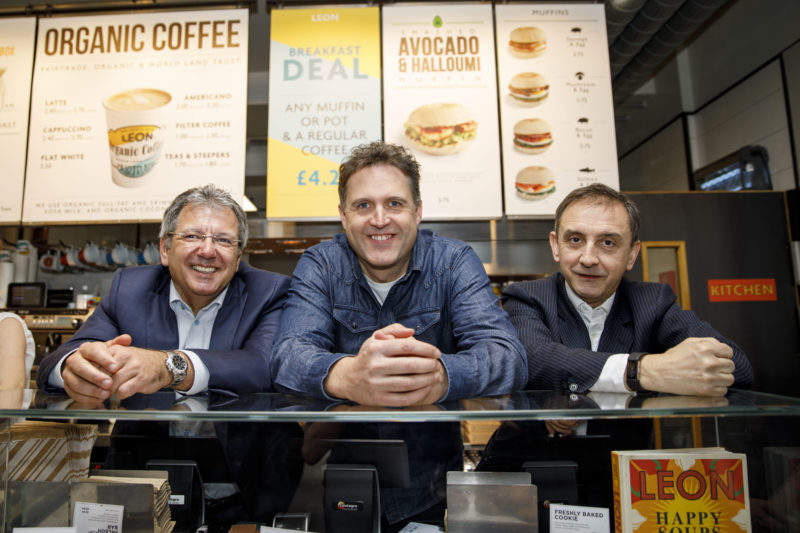 'Naturally fast food' brand, Leon has announced its extended, exclusive partnership with global restaurateur HMSHost International today.
This extension confirms new openings for Leon locations in railway stations and airports in Europe and the Middle East including Belgium, Germany, Switzerland, Denmark, Finland, Norway and the Netherlands. It will also open airport outlets in the United Arab Emirates, Bahrain, Saudi Arabia, Kuwait, Turkey, France and Spain.
Leon and HMSHost have nine existing restaurants currently in the UK and the Netherlands and plan to open 20 altogether in two countries a year. This partnership has given Leon the support in transportation channels to expand its Mediterranean-inspired cuisine and become the 'global network' it aspires to be.
Leon founder, John Vincent said: "I am proud of our partnership with Autogrill/HMSHost International, they are our extended family and we are very happy to be opening in more places, to serve more people, in partnership with them.
"HMS Host are experts within transport so the benefit of being in transport is being able to reach a huge amount of people from all over the world. It's a great gateway to being almost a global brand because of the amount of people that come through and experience it.
"What you see now in Leon is not our best work. I see myself as a nice headteacher, Leon is a giant finishing school. The aim is to create a global network that can be a physical Google."
CEO of HMSHost International, Walter Seib said: "We are delighted to announce the exclusive cooperation with Leon. We share a commitment for innovation as well as to help our guests' customers feel good with their food choices.
"The new openings of this popular restaurant provide an appealing option and familiar brand for our guests to enjoy around Europe and the Middle East."
The motivation behind the extended partnership is based on growing its relationship into 'a clan', according to Vincent.
"I want to be able to, in 20 years' time, say I've got this immensely strong partnership of individuals. The personal relationship with Walter has meant I've wanted to help him and he's wanted to help me and together we're stronger," he added.
Leon's menu is made with plant-based ingredients, from a wide range of fruit and vegetables, wholegrains and seeds, combining a focus on natural food with fast food. The fast-casual establishment's healthy ethos aligns with its global food trend predictions for this year of 'health, wellness and sustainability'.
The plan is to further expand this menu widely in Europe in two to four years' time, as well as the Netherlands and Spain more specifically, with stores predicted to reach the US and Scandinavia several years down the line. However, the Leon founder notes that these plans will not be easy, particularly in the USA.
Vincent said: "There are all sorts of mistakes that we'll make that we don't even know we will make.
"We have got to tread quite carefully, we have got to try the menu as it is and keep our eyes open, not with ego, but be aware of what is going on and be sensitive to it and change as appropriate."
The six-year partnership with HMSHost has brought many benefits to Leon, including the opportunity to invest higher constantly and develop a stronger relationship; however the collaboration isn't without its challenges.
Vincent said: "The challenge with any franchise partner is if you are an opinionated brand owner, you're always going to be reticent to give up control of your baby.
"We try and keep an eye on what they are doing but we can't be there every day so that is the challenge, it's more of an emotional one and that is always the tension because we have such high standards, they do too, but one person's high standards and another person's might not match exactly but it hasn't affected the relationship so far."
Seib is also passionate about the bond between HMSHost and Leon, describing the growing chain as 'compelling and attractive' and noting that the relationship 'takes a lot of effort from both sides.'
In the UK, the Leon outlets in currently in King's Cross Station and Heathrow International Airport Terminal 2 are operated by HMSHost International, part of the Autogrill Group.