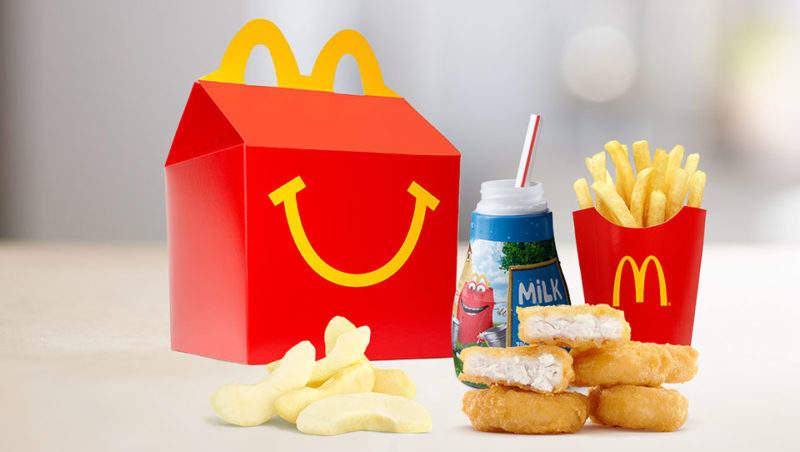 McDonald's has announced its new global goals to impact children's meals by 2022.
The fast-casual giant, in partnership with the Alliance for a Healthier Generation, aims to offer more 'balanced choices' in the meals with a variety of recommended food groups and simpler ingredients.
One of the five goals is for 50% or more of Happy Meals to meet nutrition criteria of 600 calories or less, 10% of calories from saturated fat, 650 milligrams of sodium and 10% of calories from added sugar.
An average Happy Meal consisting of a cheeseburger, small fries and Tropicana orange juice is over 600 calories on the nutrition calculator, with Happy Meals ranging from 300 to nearly 800 calories in North America.
CEO of McDonald's, Steve Eastbrook said: "We recognise the opportunity that we have to support families as one of the most visited restaurants in the world, and remain committed to elevating our food.
"Given our scale and reach, we hope these actions will bring more choices to consumers and uniquely benefit millions of families, which are important steps as we build a better McDonald's."
Additional goals include removing artificial flavours and added colours from sources, reducing artificial preservatives, ensuring nutrition information is easily available and accessible across all websites and marketing responsibly.
These goals apply to all markets globally, with the 20 major markets that represent nearly 85% of global sales, including the US, the UK, Canada, Brazil, France, Germany and China, measuring and reporting progress.
CEO of the Alliance for a Healthier Generation, Dr. Howell Wechsler said: "The Alliance for a Healthier Generation has been working with McDonald's for over five years and we were drawn to McDonald's because of its scale as one of the largest restaurant chains in the world. When McDonald's added clementines to the US menu in 2016, they sold 108 per minute! That's the kind of difference McDonald's can make.
"We're optimistic about McDonald's reaching these goals by 2022. In fact, they are on schedule to complete their previous commitment to us to increase families' access to fruit, vegetables and low-fat dairy ahead of schedule."
US customers will see the following changes to the Happy Meal menu this year; the replacement of small fries with kids-sized fries in the six-piece chicken nugget meal, the reduction of added sugar in chocolate milk, and bottled water as a featured beverage choice.
Currently, 28% of Happy Meals offered in these markets meet the intended nutrition criteria. However, these menu changes will reduce calorie intake by 20%, added sugars by 50%, saturated fat by 13% and sodium by 17%.