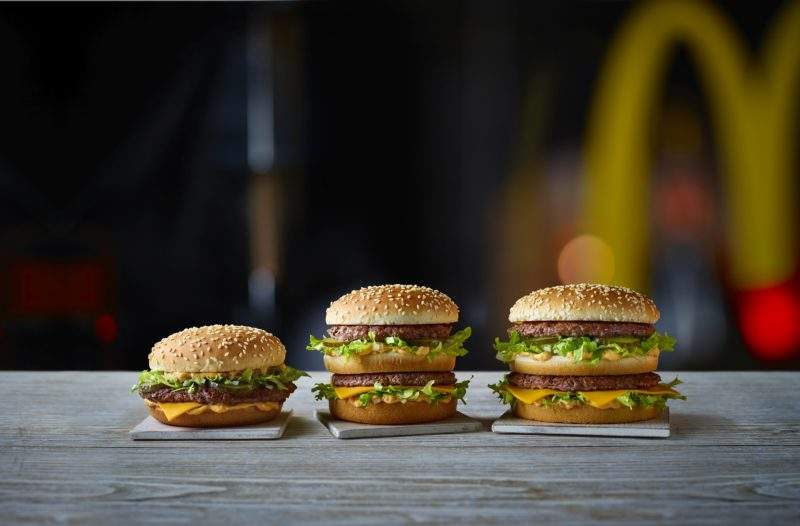 McDonald's is bringing the Mac Jr. and Grand Big Mac to its UK stores to celebrate 50 years since the creation of the original Big Mac.
Available until 20 March 2018, the new additions to the menu pack in the same features as the £2.99, 550-calorie original. However the £2.19 Mac Jr. is smaller, with one less patty than the Big Mac, at 400 calories and 20g of fat per portion. The Grand Big Mac is a much larger sized version with two slices of cheese, packing 741 calories and 37g of fat per portion, and costing £3.99.
Since its creation in 1968 America, the Big Mac became famous for its combination of two all-beef patties, special sauce, lettuce, cheese, pickles and onions in a triple-decker sesame seed bun.
The special sauce took Big Mac creator Jim Delligatti two years to perfect. He originally wanted to call his creation 'The Aristocrat'.
The Big Mac made its first UK appearance in its Woolwich High Street store in 1974 after proving a success in the US, and is now sold in over 100 countries worldwide.
Head of Marketing at McDonald's UK, Steven Howells said: "As an iconic McDonald's product, we are proud and excited to be celebrating 50 years of the legendary Big Mac and for the first time ever in the UK, introducing the two new sizes for a limited time.
"We know a lot of our customers will remember the 1974 launch of the Big Mac in the UK and have continued to enjoy the burger and pass the Big Mac love on since then, it remains our most iconic burger!"