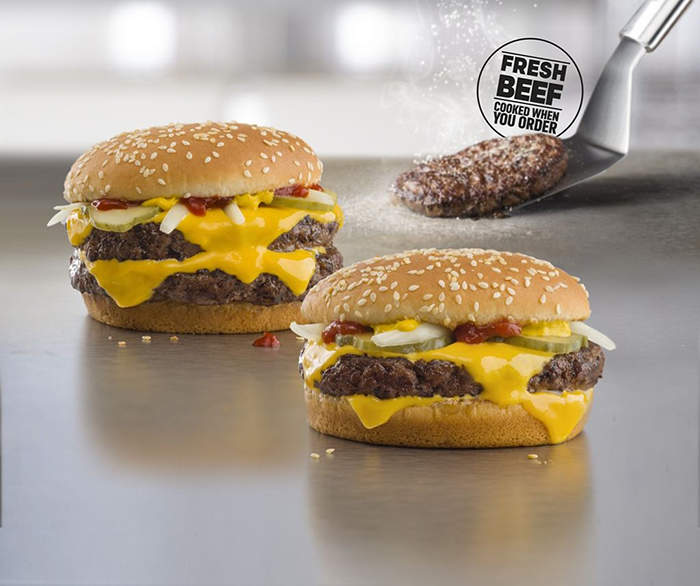 McDonald's US has introduced fresh beef patties to 3,500 of its restaurants.
The fresh beef will be cooked upon order and provided in all Quarter Pounder and Signature Crafted Recipe burgers and is expected to rollout to all restaurants in the US by early May, with the exception of Alaska, Hawaii or US territories.
The shift to fresh beef quarter-pounder burgers is the latest in the fast-casual chains customer-led initiatives, including All Day Breakfast, sourcing cage-free eggs by 2025 and serving chicken free from antibiotics for human medicine.
McDonald's US President Chris Kempczinski said: "The switch to fresh beef quarter-pound burgers is the most significant change to our system and restaurant operations since All Day Breakfast.
"Over the past two years, we have been listening to our customers and evolving our business to build a better McDonald's. We are proud to bring our customers a hotter and juicier quarter-pound burger at the speed and convenience they expect from us."
McDonald's US announced the fresh beef switch in March 2017 and will be completing the transition in additional stores including Denver, Houston, Los Angeles, San Francisco and Seattle.
Test markets conducted in Dallas and Tulsa proved successful with a 90% customer satisfaction of the 'hotter and juicer fresh beef quarter-pound burgers' and a 90% intent to buy the burger again.
Quarter-pound burgers include the Quarter Pounder, Quarter Pounder with cheese and Double Quarter Pounder.
New Signature Crafted Recipe burgers will also be debuted this year, including the Garlic White Cheddar, a combination of garlic aioli, garlic chips, a tomato slice, iceberg lettuce and white cheddar cheese prepared on a fresh beef quarter-pounder or Buttermilk Crispy Chicken and Artisan Grilled Chicken on a toasted Artisan roll.