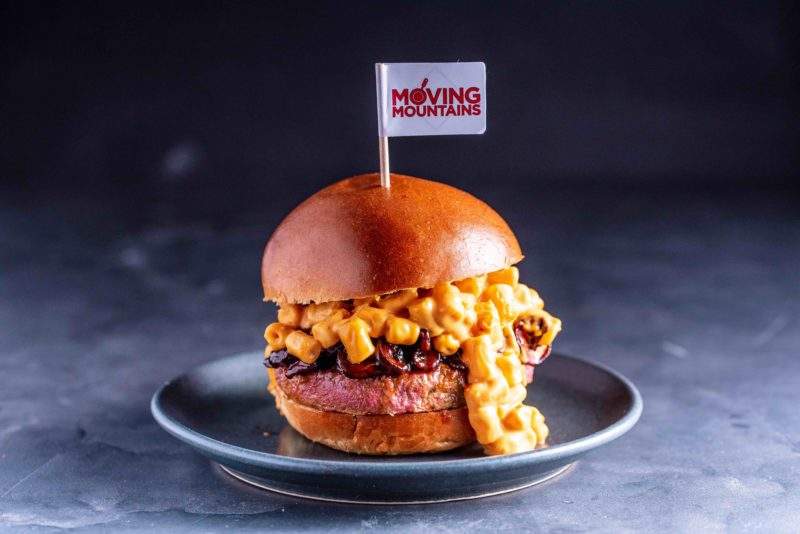 Moving Mountains, a British brand leading plant-based innovation, has teamed up with NYC-inspired comfort food restaurant and cocktail bar Dirty Bones to launch the UK's first ever meatless 'bleeding' burger across London and Oxford.
This will be the first time the Moving Mountains B12 burger will be available for purchase at a non-vegetarian restaurant.  The Moving Mountains B12 burger will launch today at all five of Dirty Bones' locations in Kensington, Carnaby, Shoreditch, Soho and Oxford.
To celebrate the partnership, the burger will be available at 50% off its regular menu price on the first day of launch at all venues.
The Dirty Bones' team have created an exclusive, entirely vegan twist on one of their most popular signature dishes, The Mac Daddy. The Vegan Mac Daddy (£12.00) will feature the Moving Mountains plant-based meat B12 patty topped with vegan mac & cashew 'cheese', smoky mushroom 'short rib' and espresso-spiked BBQ sauce on a soft bun.
Through giving Dirty Bones' Mac Daddy burger a vegan-makeover, the partnership will allow guests all across London and Oxford to experience the next level of vegan comfort food and try the Moving Mountains burger for the first time. The B12 burger has taken a team of leading UK scientists, chefs and farmers more than two years and over 200 test-kitchen recipes to create.
Simeon Van der Molen, founder of Moving Mountains said: "Expanding into new restaurants and cities is part of Moving Mountains' mission to make truly inspiring flexitarian dining available to everyone. Our launch into such a renowned meat restaurant, Dirty Bones, shows the Moving Mountains B12 burger does not compromise on taste and provides a viable alternative for flexitarians, vegans, vegetarians and meat-eaters alike."
Cokey Sulkin, founder and operations director of Dirty Bones added: "We've been getting lots of requests for a vegan-friendly version of our best-selling Mac Daddy burger, and we're thrilled to have created something that allows everyone from vegans to health-conscious, part-time vegetarians to enjoy our most popular dish. We're really excited to be the first non-vegetarian restaurant group to carry the Moving Mountains B12 Burger and have spent a lot of time creating something that stays true to Dirty Bones' signature style – creative, comforting and only comprised of the finest quality ingredients."
Every Moving Mountains B12 burger is 100% plant meat, 0% cow and looks just like a regular patty.