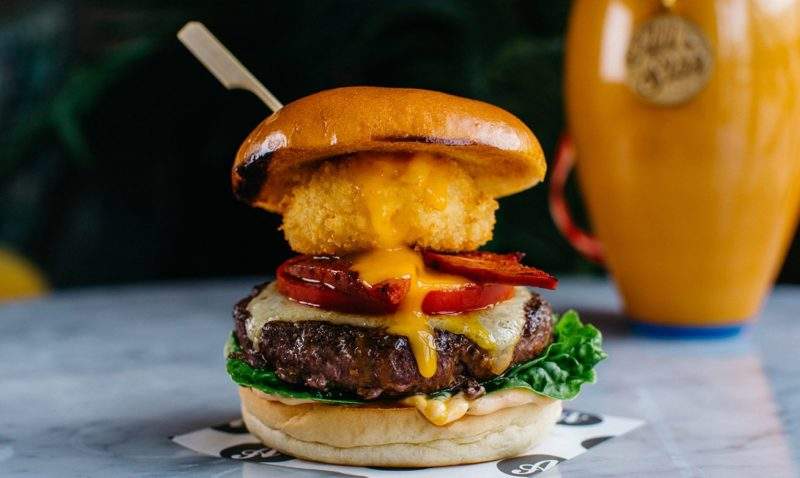 A day dedicated to one of the nation's most popular foods has arrived – National Burger Day. Invented by Mr Hyde in 2013, today (August 23) diners can choose from over 450 restaurants in the UK to chomp down on numerous, distinctive burgers. Burgers are said to have been invented around the 19th century and rose to popularity at the 1904 World's Fair in St. Louis, according to holiday listing site Checkiday. Fast food giants like McDonald's, White Castle and Big Boy began serving burgers in their restaurants in the 1920s, 30s and 40s. These following UK restaurants are offering discounts on their burgers in order to honour the day.
South Place Chop House – Charcoal Buns
The darker the bun, the sweeter the… burger? London-based South Place's head chef Guy Betteridge has created a unique burger to honour the day. The recipe consists of a 24-hour braised Angus short rib, BBQ glaze and summer slaw served between charcoal buns. The activated charcoal trend came about from last year, which saw the introduction of charcoal croissants and pizzas. The product is made from carbon-containing material heated at high temperatures. This trend isn't new to South Place Chop House as it launched its black boar burger last year with bacon, boar, coleslaw, pineapple and chilli piccalilli inside a charcoal bun.
Mac and Wild – Scotch Egg Burger
Mac and Wild has combined two of its most popular burgers in honour of National Burger Day; the veni-moo and haggis Scotch egg. The London-based Scottish restaurant group's burger includes a venison scotch egg, sunny duck egg, haggis mac and cheese melt, bacon, ketchup and green mayo, served in a brioche bun. This burger merges traditional dishes in an experimental twist, however it's not the first of its kind. Scotch egg burgers have been launched by Yeah! Burger previously. Although, this version consists of the Scotch egg as the 'bun'.
All Star Lanes – The Dude
Ten different burgers are on offer at London and Manchester based All Star Lanes, including its 'King pin of Summer', called 'The Dude'. This burger involves a peppered beef patty, smoked cheese, sliced chorizo, tomatoes, lettuce and sriracha mayo, which is made from hot sauce, and topped with a crispy poached egg. Its other National Burger Day offers are the Reuben Pragel, which consists of salt beef and cheese in between a pretzel and bagel, the Zuccado, which is a burger with panko-fried avocado and courgette and the vegan spicy nacho, which is a taco spiced yellow lentil and chickpea patty coated in polenta guacamole, courgettes and nacho vegan 'cheese'.
Byron Burger – Vegan burgers
Byron launched its first ever vegan burger in April just in time for National Burger Day. Named the Beetnik, the burger includes a beetroot falafel patty, baby kale, avocado, tomato, pickled red onions, red pepper ketchup and lime dressed rainbow slaw. Its other new burgers—the big smoke, reuben, classic flex, reflex, cheese melt and jack stack—are also available under the discounted burger day.
However, the burger chain isn't the biggest fan of well-done meat. A spokesperson said: "We want you to enjoy your hamburger just the way you like it. We prefer our hamburgers cooked pink but, of course, it should be up to you."
Available in multiple locations including London, Manchester, Newcastle and Derby.