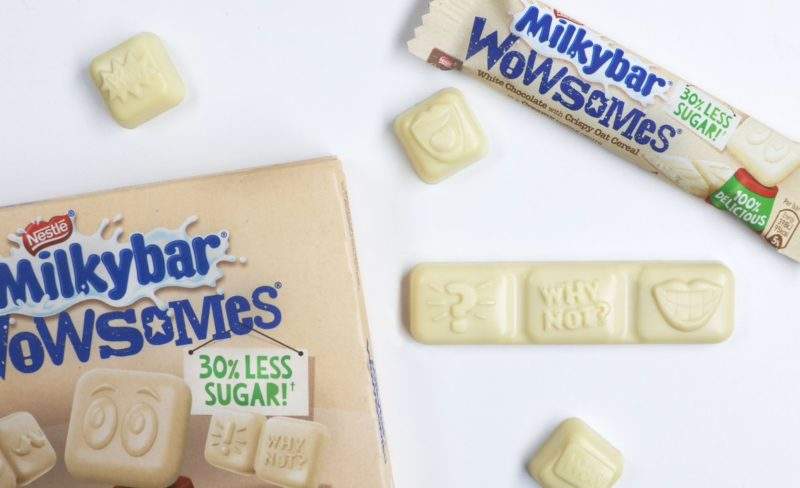 Nestlé UK and Ireland is set to launch Milkybar Wowsomes, the world's first chocolate bar to use what Nestlé describes as an "innovative sugar reduction technique".
Nestlé researchers claim to have made a scientific breakthrough by transforming the structure of sugar through a newly developed process using only natural ingredients.
Inspired by candy floss, Nestlé experts claim they have created aerated, porous particles of sugar that dissolve more quickly in the mouth, allowing someone to perceive the same level of sweetness as before, while consuming less sugar.
Nestlé says Milkybar Wowsomes contain 30% less sugar than similar chocolate products, and have no artificial sweeteners, preservatives, colours or flavourings.
Nestlé teams in Switzerland, the UK and the Czech Republic have been working over the past year to use the reported scientific and technological breakthrough process to make a confectionery product.
Stefano Agostini, CEO of Nestlé UK & Ireland, said: "We have an unrivalled research and development network and the experts at our Product Technology Centre in York have been instrumental in this breakthrough."
The gluten free Milkybar Wowsomes will be available in single bars, multipacks and a stock-up bag with individually wrapped single pieces. They come in two variants, white chocolate and a combined milk and white chocolate, both with a creamy-tasting centre containing crispy oat cereal pieces. It is the first time in Milkybar's 81-year history that one of its products has contained both milk and white chocolate in the same bar.
Milkybar Wowsomes will go on sale in retailers across the UK and Ireland from next week. Earlier this month, Nestlé UK and Ireland issued its 'contributing to a healthier future' report and revealed more than 60bn calories and 2.6bn teaspoons of sugar have been removed from across its portfolio over the last three years.