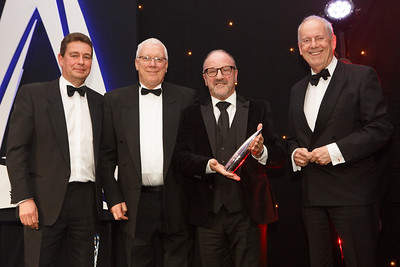 Nick Vadis, culinary director with contract catering giant Compass, and Julie Barker, director of accommodation & hospitality at the University of Brighton and former chair of TUCO, were awarded Lifetime Achievement Awards at last night's Cost Sector Catering Awards 2018 held at the Hilton London Metropole.
It was a special night for the awards, which marked the 25th anniversary of Cost Sector Catering magazine. Guests were given a whistle-stop tour of highlights from the world of catering and hospitality from 1993-2018.
Among other award winners on the night, there was MP Sharon Hodgson, the shadow for public health, who got the Special Contribution Award for her work championing school meals and holiday hunger.
Blue Apple Contract Catering, which was founded in 1998 by Brian Allanson and Ruston Toms, won the Contract Catering Award, while Phil Shelley, former chair of the Hospital Caterers Association, was presented with the PS100 Award for a number of initiatives at his hospital to help the elderly and children receive better care and nutrition.
And The University Caterers Organisation (TUCO) was definitely in celebratory mood. Not only did former chair Julie Barker receive an award, but current chair Matt White was honoured with the Public Sector Award, while TUCO's Academy project picked up the Training & Apprenticeship Award.
Cost Sector Catering's editor, David Foad, says: "It has been a terrific night, celebrating both a milestone for the magazine and some of the success stories of catering in the public sector and workplace.
"My congratulations go to all of the winners, in fact all of those who made it through to the shortlists.
"And I think it only right to add a big 'thank you' to everyone who took part, including our judges, all the nominees and everyone who took the trouble to put in an entry. We couldn't have done it without you."
Cost Sector Catering Awards 2018 Winners
Armed Forces Award – Petty Officer Scott Furber – HMS Duncan
Care Catering Award – Jane Mardle T(n)S
Chef Award – Carol Vallejo, Royal Holloway
Contract Caterer Award – Blue Apple
CSR Awards – Devon Norse
Education Award – CATERed
Healthcare Award – Geoff Moyle, Newscastle NHS Foundation Trust
Multi-Site Award – Leroy Cyrus, Barking & Dagenham Catering Services
Event/Stadia/Arena – CGC Event Caterers
Innovation Award – Michaela Booth, University of Huddersfield
Special Contribution Award – Sharon Hodgson
Marketing Award – ASSIST FM
PS100 Award – Phil Shelley, Musgrove Park Hospital
Public Sector Award – Matthew White, TUCO
Team of the Year Award – St Wilfrid's RC College
Training & Apprenticeship Award – TUCO Academy
Unit Manager Award – Pauline Jones, Barking & Dagenham Catering
University/College Award – University of Huddersfield
Lifetime Achievement Awards
Public Sector Lifetime Achievement Award – Julie Barker
Contract Catering Lifetime Achievement Award – Nick Vadis