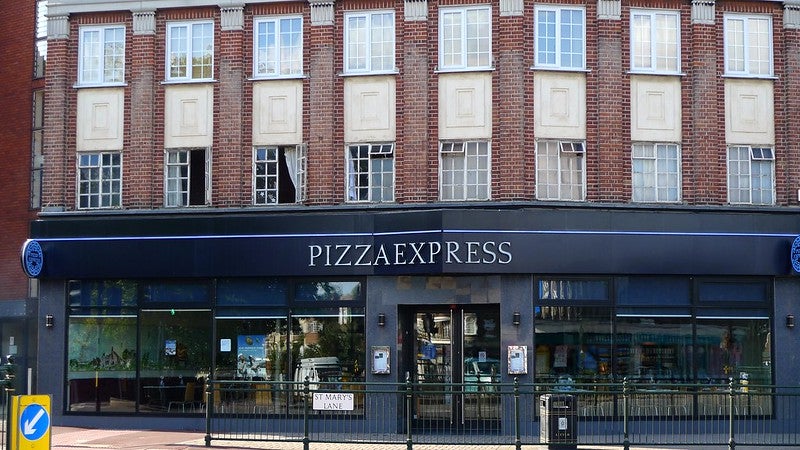 Restaurant group Pizza Express is reportedly in the early stages of talks with lenders after hiring financial advisers to review its debt situation.
With over 470 restaurants across the UK and 100 across the globe, the pizza chain has made losses over the last two years as its operating profits have been diminished by high interest payments on its £1.1bn debt.
The interest on the company's £1.1bn debt is costing them £93m a year, causing its operating profit last year to disappear. The company has been in the red for the last two years, with a loss of £55m in 2018.
The company saw group like-for-like sales down by 0.9% in the UK & Ireland and like-for-like sales declined by 7.5% internationally last year. The company also saw a disappointing first half in the UK for 2019, with sales growing at 0.5% compared to international sales growing by 11.5%.
Currently owned by Chinese private investment firm Hony, the Chinese company bought it from UK private equity firm Cinven in 2014. Pizza Express has until 2021 before it has to start paying back £600m to its outside creditors, with the other £500m owed to its Chinese owners.
In its 2018 annual report, Pizza Express CEO and group chairman Jinlong Wang said: "Whilst we recognise that the food and beverage environment across all our markets is highly competitive, we remain positive about our ability to successfully compete.
"We recognise that our brand needs to remain relevant and this was the driving force behind the brand proposition work undertaken in 2018, which will shape the future of Pizza Express."
Pizza Express is not the first from the casual dining sector to fall into debt, with names including Prezzo, Byron and Carluccio's closing stores, while Jamie Oliver's restaurant empire collapsed earlier in the year.
When we contacted Pizza Express they stated PizzaExpress isn't commenting on the speculation.