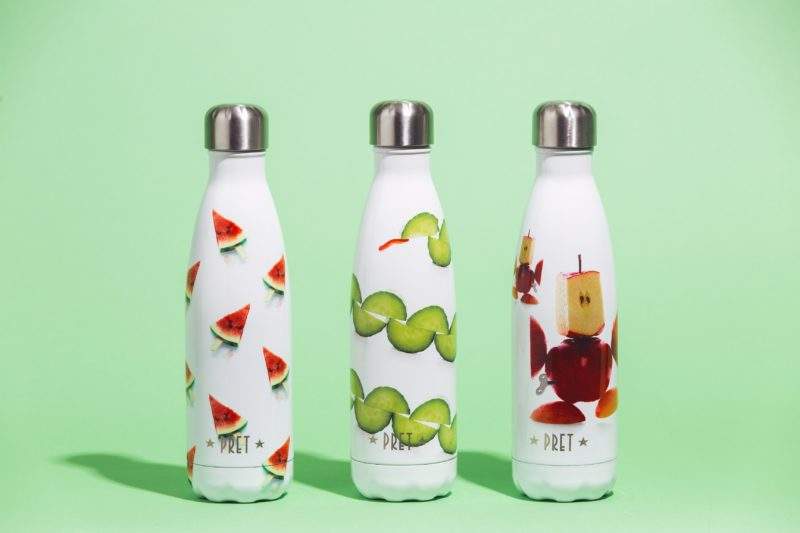 Sandwich and coffee shop chain Pret A Manger has partnered with bottle company Chilly's to produce a range of reusable bottles.
The nationwide roll-out started after a trial in 14 stores for which customers provided positive feedback. The bottles will be introduced to 370 Pret stores to reduce single-use plastic bottles and feature three exclusive designs; an apple robot, cucumber snake and watermelon lollies.
Pret claims that the 500ml bottles can keep drinks cold for 24 hours and hot for 12 hours. They are available for £20 each.
Last year, Pret CEO Clive Schlee blogged about the company's attempts to encourage the use of reusable bottles.
"Plastic bottles present a real challenge and there are two schools of thought within Pret. The passionate environmentalists say stop selling them altogether, while the pragmatists say make it as easy as you can for customers to use fewer plastic bottles. We are looking carefully at both options," he said.
"All of our Veggie Pret and Manchester shops will now be encouraging customers to fill up their bottles for free using new filtered water stations. These shops will also start selling reusable plastic bottles alongside our regular water bottles, so the choice is clear. The aim is to understand if customers will choose to refill a bottle rather than buying a new one."
Today, customers and non-paying users have the opportunity to refill any reusable bottle for free at Pret's filtered water stations in over 70 stores.
Pret has also trialled the UK's first plastic bottle deposit scheme in its Brighton stores. The chain recycles any plastic bottles given to the store and gives back a 10p deposit for plastic bottles branding the Pret logo.
Pret aims to launch the scheme to more locations across the year, depending on the success of the trials.