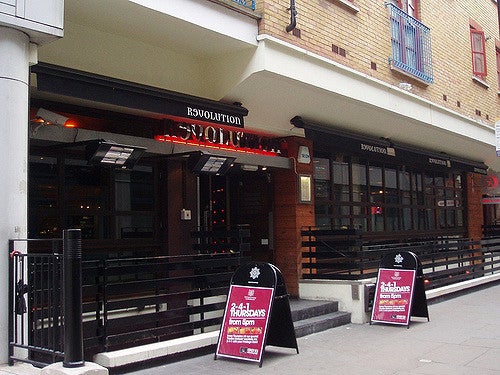 City centre bar chain Revolution Bars Group has endured another loss-making six months with further losses predicted for the rest of 2019.
The company runs 79 bars across the UK, with results from bars across the country showing a loss of £3.1m in the last six months of 2018, following a loss of £3.7m in 2017.
Like-for-like sales fell in the first six months of the financial year, declining by 4% due to "under-investment in the brand's proposition". As well as "management instability and the hot summer" the company added.
The company started 2019 with a loss in the first eight weeks to February 23 with like-for-like sales down by 7.3%. With a slow start to H2, the full-year earnings for 2019 are expected to be in the range of £11m – £12m.
Revolution chief executive Rob Pitcher said: "While Revolucion de Cuba has performed well and delivered growth in the reporting, it is clear that the lack of investment into the Revolution proposition is impacting performance. Revolution has been reviewed, the issues identified, and work streams are being implemented to restore it to growth.
"Our confidence in achieving that is underpinned by the good performance of the new Revolution venues, while the recently refurbished sites are also seeing uplifts. We have therefore decided to prioritise the refurbishment programme over new openings. We expect trading to improve as we come up against softer comparatives for the rest of the financial year."
The focus for the year is on enhancing the proposition and delivering performance from the existing estate, this will improve sales and profit from the existing estate.
The board hopes to accelerate the return to like-for-like sales, with an increased investment in the company and work streams to improve the Revolution customer proposition.