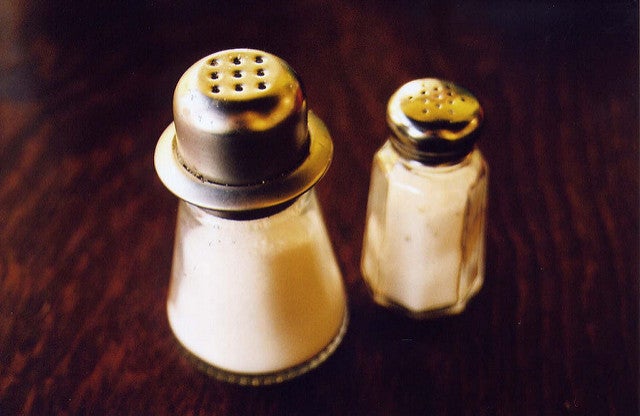 A UK nationwide product survey by Action on Salt, the expert group based at Queen Mary University of London, has found high amounts of salt found in children's Out of Home (OHH) meals.
The survey found that 41% of meals contained more salt than Public Health England's (PHE) 2017 target.
PHE guidelines challenged all sectors of the food industry to reduce sugar levels by 20% in the nine categories of food that contribute most to children's intakes by 2020. The target for salt intake was for 95% of products or volume sales meet the targets and for efforts to have been made to reduce salt in the remaining 5% of products or volume sales to a minimum.
Salt survey findings
Of the 351 meals surveyed 41% were found to contain more than 1.8g of salt per portion.
One of the restaurant meals with the highest amount of salt was TGI Friday's chicken burger with crispy fries and baked beans, which had 5.3g per portion. This is almost as much salt as an adult's recommended daily salt intake of 6g.
In a 2015 survey, 29% of 218 meals surveyed contained at least 2g of salt per portion, compared with 37% of the 351 meals surveyed in 2019, suggesting children's OOH meals are getting saltier.
Action on Salt nutritionist Mhairi Brown said: "This survey highlights the shocking levels of salt still present in many children's meals, even though it is well known that dietary habits formed in childhood influence what you eat for the rest of your life. Protecting children's health should be a priority for all food and drink companies – the out of home sector must act now and take salt off the menu for children."
A spokesperson for TGI Fridays said: "We strongly dispute the findings of the Action on Salt survey as independent nutritional analysis has shown our kids chicken burger meal to contain 1.5g of salt, not 5.3g as cited in the report. This is all the more disappointing as we have long supported Government's salt reduction programme since 2012 with a focus on children's meals.
"We will continue with our work on salt reduction across all our menus as well as other nutrients in support of the Government's ambition to tackle childhood obesity."
Salt reduction plans
As part of Salt Awareness Week, Action on Salt is calling for 'high salt' warnings labels on children's menus with ambitious salt reduction plans from the Secretary of State for Health by spring 2019.
Queen Mary University of London professor of cardiovascular medicine and Action on Salt chair Graham MacGregor said: "The Secretary of State for Health has promised long-awaited new voluntary salt reduction plans in his green paper by Easter 2019 and they can't come soon enough.
"Reducing salt is a shared responsibility between the food industry, individuals and the government and is the most cost-effective measure to reduce the number of people dying or suffering from entirely unnecessary strokes and heart disease.
"We've already seen the success of the UK's previous work on salt reduction and we encourage the Secretary to mandate his plans, formalising them and helping to ensure progress is sustained, with huge cost savings to the NHS"