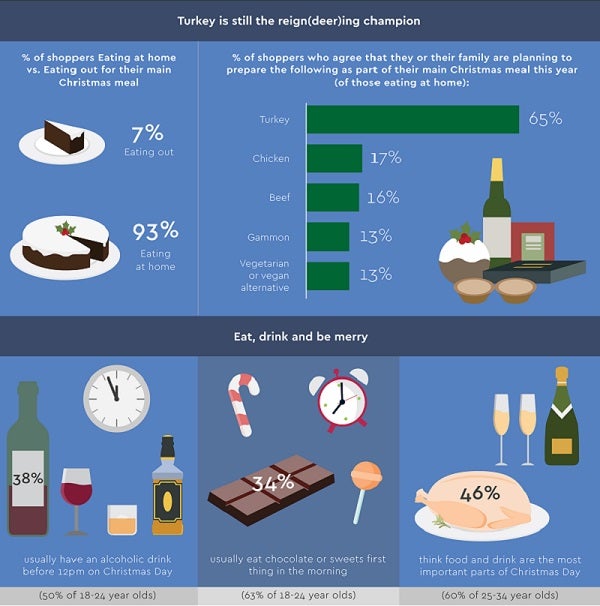 UK shoppers are making a commitment this Christmas with 71% willing to reduce their environmental impact this Christmas, according to new research by food and consumer research organisation IGD.
Surveying 1,000 grocery shoppers in the UK, IGD found that sustainability, ethics and saving money are a priority for shoppers this Christmas, with 55% planning to buy more loose fruit and vegetables and 34% to avoid buying products that have a lot of excess packaging.
Shoppers aim to focus on buying local produce and plan to find goods that have easily recyclable packing.
The welfare of animals is important for shoppers this Christmas, with 51% planning to buy higher welfare or more premium meats. More families will be reducing their amount of meat consumption this year, with 13% planning to cook a vegan or vegetarian meal compared to 9% last Christmas. Plant-based alternatives are in the top five choices for main meal options for the first time this year, coming above ham, pork, seafood, lamb and salmon.
IGD director of global insights Simon Wainwright said: "More shoppers intend to visit specialist stores, such as butchers or greengrocers, farmer's markets or premium supermarkets this year than last. This is despite the intent to spend less on Christmas dinner, perhaps implying a reduction in quantity purchased in favour of quality. Large stores in particular could face a challenge here – calling out quality, sustainability and welfare messaging year-round could encourage shoppers to visit these stores more frequently at Christmas.
"While environmental concerns are clearly important at this time of year, we can see that there is an opportunity for retailers and manufacturers to engage with shoppers more in this area during the season to make it as much of a priority as at other times of the year. The focus here should be on taking action to reduce the environmental impact of products so shoppers can buy the gifts they want without compromising on their sustainable ambitions."