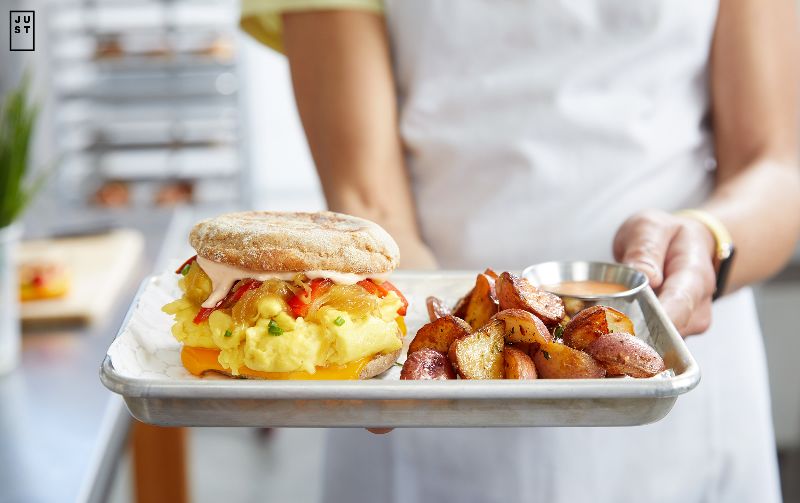 Sodexo has entered a new partnership to offer the plant-based egg alternative JUST Egg across its partner higher education institutions in the US.
Delivered by American food manufacturing company Eat JUST, the product is made of mung bean and tastes similar to an egg. The cholesterol-free, non-GMO offering carries around 5g of protein per serving.
According to the company, JUST Egg ingredients use 98% less water, 83% less land and reduce carbon dioxide emissions by 93% compared to conventional animal sources.
In addition to higher education institutions, the plant-based egg alternative will be available at Sodexo's healthcare and corporate sites across the US.
The addition of JUST Egg will help in expanding Sodexo's breakfast offerings.
It also supports Sodexo's Better Tomorrow 2025 strategy that seeks to reduce food waste, encourage plant-based meals and reduce carbon emissions.
Sodexo senior director of culinary development Rob Morasco said: "JUST Egg products are nearly indistinguishable from their 'real' counterparts, they taste like eggs, cook like eggs and can bake like eggs.
"We've done a considerable amount of recipe development for our North America customers and will be working with JUST Egg on the next wave of sustainable diets innovation for sure."
A France-based food services and facilities management company, Sodexo serves nearly 500 college and university locations in North America.
JUST co-founder and CEO Josh Tetrick said: "We're thrilled to become a preferred supplier to Sodexo, which serves over 75 million consumers each day.
"Sodexo's sustainable menu innovation initiative has resulted in hundreds of new plant-based recipes and we're excited to see a range of delicious JUST Egg dishes arrive at clients' facilities in the months ahead."
In December last year, Sodexo secured a four-year food services contract from the UK's Transport for London (TfL).