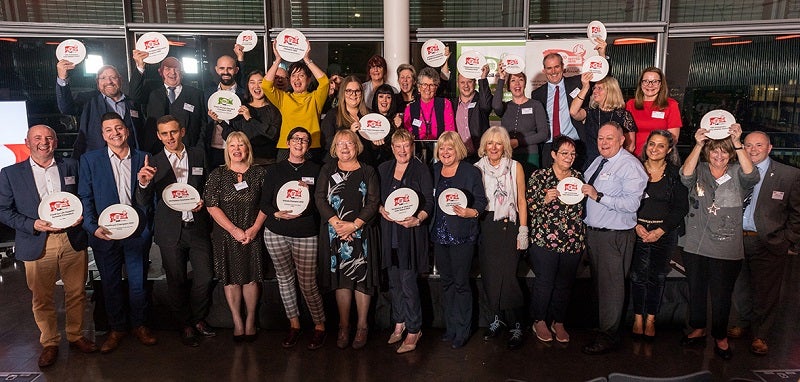 UK charity the Soil Association celebrated the best in sustainability and healthy food served across the UK at the Food for Life Served Here and Green Kitchen Standard Award winners at London City Hall.
The night celebrated people and foodservice providers in the industry who are making a difference and inspiring others through Soil Association Food for Life's sustainable catering frameworks: Food for Life Served Here and Green Kitchen Standard.
Soil Asssociation chief executive Helen Browning said: "There has been a doubling in the number of food providers engaging with our celebration of excellence, despite the turmoil and uncertainty facing the food service industry, and this is something we're delighted to shout about. Cooks and food providers achieving our standards can therefore be rightly proud, confident and bold about providing the best in sustainable and healthy catering in the UK."
The night also celebrated the 10th anniversary of Food for Life Served Here and the organisations that adopted this commitment in its early years.
An independent judging panel including City University of London professor of food policy Professor Tim Lang, food writer, historian and school food campaigner Bee Wilson, Bremner Consulting CEO Myles Bremner, National LACA chair Stephen Forster and Scotland Excel category manager Lynsey Gordon.
Winners were chosen for their commitment to embedding the Food for Life Served Here standards, sourcing and serving healthy food that's better for the environment in an outstanding way and keeping sustainability in mind in the kitchen.
Prue Leith presented the awards, on Friday 15 November, saying, "The commitment of caterers to safe, healthy, sustainable and delicious food is absolutely vital if we are to tackle our current environment and health crisis. Today we are honouring great caterers who feed the public in all manner of places: nursery schools, care homes, hospitals, visitor attractions and workplaces alike. Congratulations to everyone getting a Food for Life Served Here award."
The winners included the Excellence at Silver and Gold Award Oldham Council. Susan Carr, Area Co-ordinator, said: "It feels amazing to have received the award. We've worked really hard over the last ten years to get here and so it's nice to be recognised for doing that. Providing quality to our customers on a daily basis is so important to us at Oldham Council."
Shakespeare Birthplace Trust won the Restaurants, Events and Leisure Champion Award. Beverly Edwards head of hospitality said: "I feel proud and honoured to have won the award. The biggest challenges are having the team on board, and without them, I wouldn't be here."
The winner of the Food for Life Supplier Scheme Champion was Yeo Valley. Founder Gary Durbin said: "I'm delighted. To get this award for an industry that we love, Food for Life is so important to us. I've been involved in it personally for ten years, so to get that award is superb."
The Green Kitchen Standard Champion was awarded to Aramark University of Westminster group chief executive chef Nick Thwaites. He said: "As caterers we feel like we have a responsibility to make sure what we're doing is sustainable and ethical, so to get recognition for that is fantastic."
Full list of winners:
Further and Higher Education Champion Award
Ivan Hopkins at Nottingham Trent University
Healthcare Champion Award
Carl Stevenson at Bondcare Summerfield House Care Home
Independent School Champion Award, sponsored by Yearsley Food
Simon Blackwood at King's House School
Restaurants, Events and Leisure Champion Award, sponsored by Vintage Roots
Beverley Edwards at Shakespeare Birthplace Trust
Workplace Champion Award
Daniel Blackburn at John Lewis Partnership Victoria Head Office Campus
Schools Champion Award, sponsored by Yeo Valley
Marie Bridge at Christ Church Primary
GS Plus
Early Years Champion Award
Tracy Miller & Olivia Cherry at Woodlands Day Nursery
Childbase Partnership
Excellence at Silver and Gold Award, sponsored by Pip Organic
Oldham Council
Innovation in Customer Engagement Award, sponsored by ParentPay
Leicestershire Traded Services Catering
Food for Life Supplier Scheme Champion
Yeo Valley
Green Kitchen Standard Champion, sponsored by Wallaroo Foods
Aramark University of Westminster