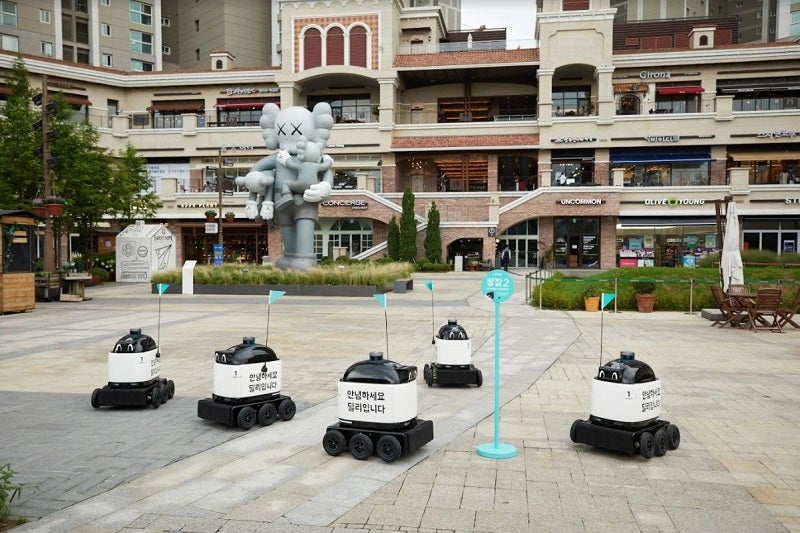 South Korean food delivery app operator Woowa Brothers has started a new delivery service, using a self-driving outdoor robot at the multipurpose housing complex in Gwanggyo, Suwon city.
Introduced to Gwanggyo Alley Way complex, the outdoor delivery robot Dilly Drive can be used by residents and visitors.
The menu can be selected by 1,100 residents of apartments and studio flats in the housing complex for placing orders from the restaurants and cafes within the apartment complex.
They can place orders by just opening their Baemin applications and scanning QR codes.
QR codes displayed on outdoor tables can also be used to order at the plaza in the Gwanggyo Alley Way.
Woowa Brother Robot Business Development head Joseph Kim said: "Outdoor delivery robot service includes a lot more obstacles that interrupt the robot's drive such as the road surface, obstacles, the weather, unexpected events and so on.
"It can be commercialised when sophisticated technology and service know-how come together. Woowa Brothers will continue the development of delivery robot service for the advanced delivery ecosystem."
The Dilly Drive robot will go from the station to the restaurant on its own when an order comes from Gwanggyo Alley Way. It starts the delivery after the restaurant staff place the food and presses 'go' button.
Customers can use Baemin application to check the current location of Dilly Drive and also get notified of their order 100m before and upon arrival.
The robot has six wheels and drives at the speed of 4km-5km per hour. It is also capable of running for more than eight hours when charged.
Furthermore, Dilly Drive's headlights enable it to deliver at night. For each delivery, it can carry six lunch boxes or 12 cups of beverages.
After examining the road condition and travel route of the people in the complex thoroughly, Woowa Brothers has set the robot to move slowly in parts where there usually are a lot of people or children.
Dilly Drive stops at crosswalks with a lot of cars. The company has improved its safety with real-time control through the video surveillance system, which has been installed at the apartment complex.
Woowa Brothers said that the Dilly Drive delivery robot service will be a new source of income for the restaurant and café owners.
Dilly Drive has been currently set up in such a way that it can self-drive from the restaurant to an apartment's first floor. In the first half of the next year, it will be able to deliver right to the door.
Last December, Germany-based Delivery Hero agreed to acquire Woowa Brothers in a deal valued at $4bn.