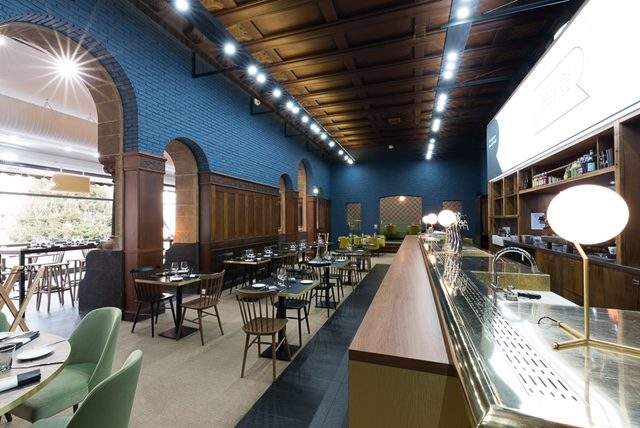 SSP France, a subsidiary of food operator SSP Group, has opened a new restaurant with 'national star', French chef Michel Roth in Gare de Metz station, which serves the city of Metz, France.
The restaurant, named 'Terroirs de Lorraine', serves over 130 diners, with additional terrace seating for the summer and features decor which combines the historic building with modernity.
The menu, created by Roth, includes perch fish and chips, Lorraine stew and Rossini beef fillet, with a bistro lunch and gourmet evening meal.
Roth is known for winning Bocuse d'Or, a biennial world chef competition, and being named Meilleur Ouvrier de France, a craftsmen competition, and is the only chef in the world to receive both awards.
He said: "Terroirs de Lorraine is born of my passion for the region, and my roots are in Lorraine where my culinary career began at my family restaurant.
"The Gare de Metz is, for me, a symbol of homecoming and I look forward to welcoming customers to enjoy authentic cuisine in a place that for me is full of history and memories.
"With my team, we have developed a simple and refined menu that fuses regional dishes emblematic of Lorraine and French gastronomy. With the opening of the Terroirs de Lorraine restaurant, I hope the Gare de Metz will be established as destination in its own right, as well as a gateway to the city."
This development is a part of an attempt to 'refresh the food offerings' at French stations by a partnership formed of railway company SNCF, SSP and Michel Roth.
Managing Director of SNCF Gares & Connexions, Patrick Ropert, said: "It is essential to rethink station food and beverage by creating a real sense of place and by working with leading chefs from the region who will be able to draw on their culinary heritage, while adapting their food and service to the station environment and its customers."
Managing Director of SSP France and Benelux, Gerard d'Onofrio said: "We are particularly proud to be working in conjunction with Michel in this outstanding venture. It underscores our commitment to innovation and high culinary standards that can be seen across our offer to the travelling consumer."