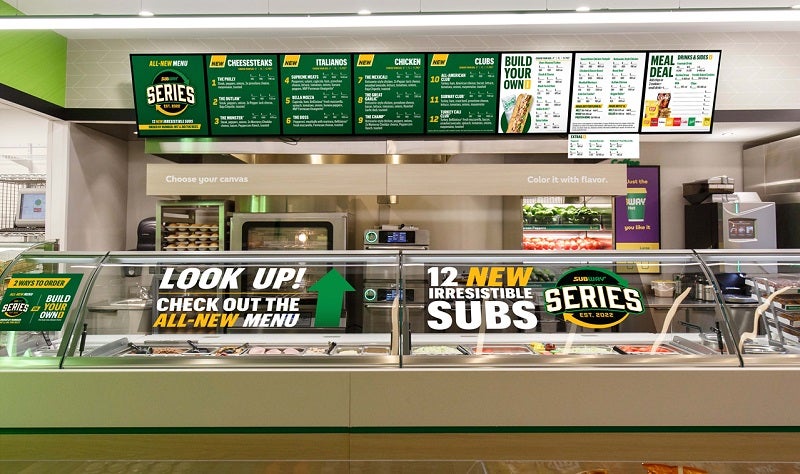 US-based multi-national fast-food restaurant chain Subway has launched its most ambitious sandwich menu update in the last 60 years.
Called the Subway Series, the line-up includes 12 new signature sandwiches.
The launch of the new sandwiches is a part of Subway's 'transformation journey', which began last summer with 'Eat Fresh Refresh'. This programme saw the chain introduce more than 20 new and refreshed ingredients to its menu.
Subway noted that its new signature sandwiches can be ordered by name or number.
The line-up of 12 sandwiches is divided into four different categories, namely Cheesesteaks, Italianos, Chicken and Clubs, each of which contains three sandwiches.
Cheesesteaks Subway contains The Philly (No. 1), The Outlaw (No. 2) and The Monster (No. 3). The Italianos sandwiches are the Supreme Meats (No. 4), Bella Mozza (No. 5) and The Boss (No. 6).
The chicken category has The MexiCali (No. 7), The Great Garlic (No. 8) and The Champ (No. 9), and the Clubs section of the menu includes the All-American Club (No. 10), Subway Club (No. 11) and Turkey Cali Club (No. 12).
The new Subway Series has been rolled out across the US.
Subway North America president Trevor Haynes said: "The Subway Series is the most ambitious undertaking in company history, as we are changing the nearly 60-year-old blueprint that helped make Subway a global phenomenon.
"Last summer's 'Eat Fresh Refresh' laid the foundation to build a better Subway, and now the Subway Series enhances the entire Subway guest experience – proof that we continue to improve and get way better.
"Whether you leave the sandwich-making to us or are craving your custom creation, there are more reasons than ever to make Subway your dining destination."
Last month, Subway announced its redesigned catering programme, which includes new easy-order menu choices as well as 'convenient' delivery and pick-up options.