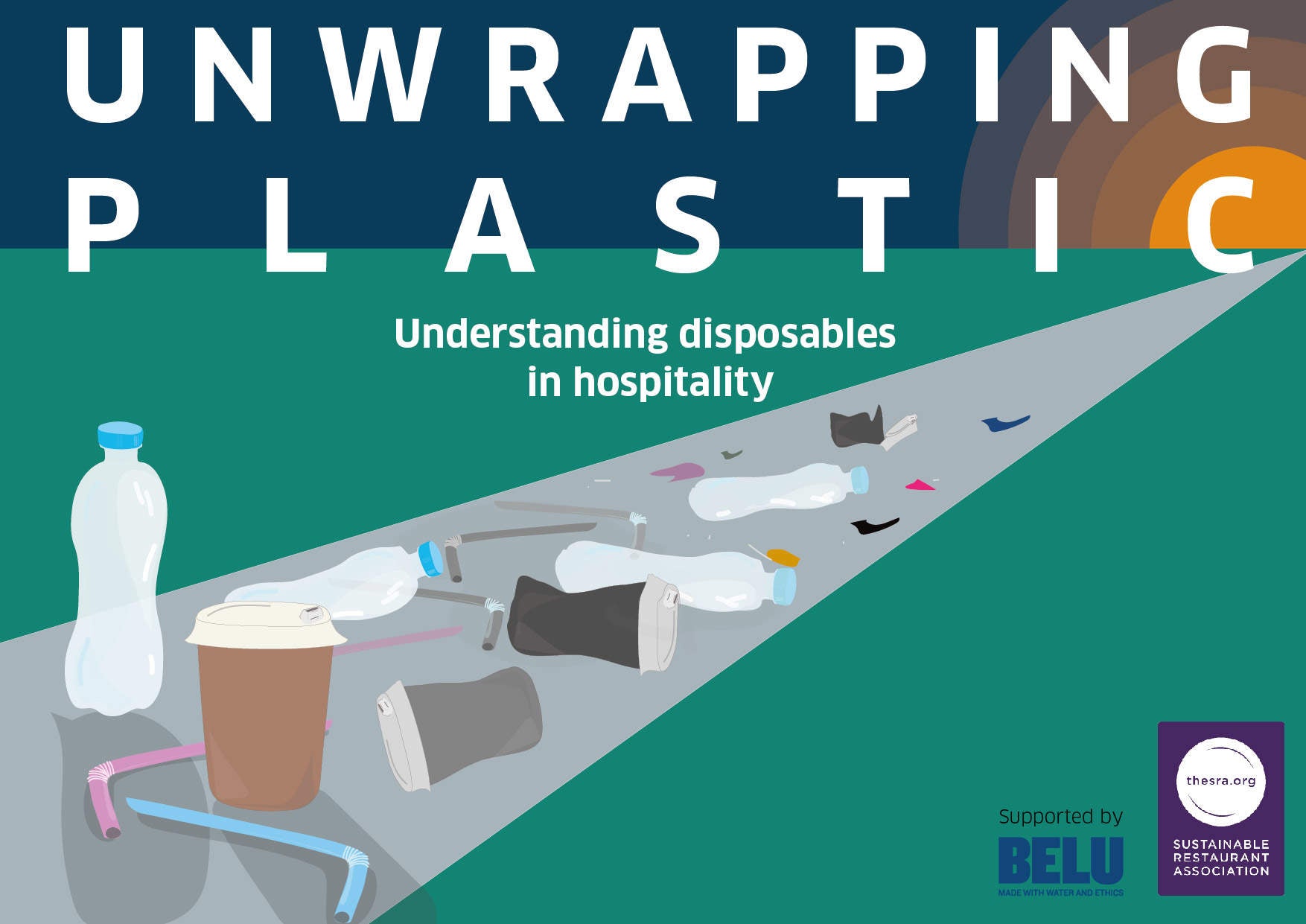 The first sector specific guide to help foodservice businesses to find the best available alternatives to single-use plastics, is launched today by the Sustainable Restaurant Association (SRA).
The manual is designed to provide restaurants and other hospitality businesses, large and small, with all the essential information to ask the right questions in order to make the best long-term decisions about the millions of disposable items they use, from straws to bottles, cups to clingfilm.
The guide focuses on six of the most widely used items; bottles, straws, coffee cups, takeaway packaging, cutlery and cling film, summarising all the different alternative material options, assessing their sustainability from production right through to disposal, providing operators with practical information about the items that will genuinely be recycled for example, rather than those that just have the potential to be so.
Speaking before the launch of the toolkit at the SRA's event Unwrapping Plastics: Use and Misuse in Hospitality, Andrew Stephen, chief executive of the SRA, said: "Plastics play a crucial role in the day to day operation of most food service businesses, and right now the sector is facing an unprecedented level of awareness and pressure over their environmental impact.
"There is a huge tide of willingness to tackle the pressing issue of single-use plastic. Many foodservice businesses have already taken the first step – acknowledging they have a plastic problem. A number have already acted decisively to ditch some items like straws. There are few in the industry though who feel fully confident about the available alternatives for their full range of disposables.
"We've created a toolkit to help the industry start to come to terms with its addiction to single-use plastic. It's designed businesses better understand the realities of what they are using, what it's made of and how they can actually dispose of it. Armed with this, we hope businesses will be better equipped to make informed decisions, making switches which are genuinely better for the environment, customers and business too."
The SRA has partnered with ethical water company Belu on the toolkit and event. Karen Lynch, Belu CEO, said: "When faced with a challenge on plastics, the right solutions are those without unintended consequences. Working with The SRA is a great opportunity to understand the critical information you need to make the right choices for your business and the environment, the common pitfalls to avoid and, to upskill and share experiences and ideas".
The SRA's guide recommends a simple five-step plan as the essential starting point for any restaurant serious about reducing their reliance on single-use plastic.
1. Complete a plastic audit – a thorough assessment of what you're using
2. Identify what's essential
3. Set reduction targets
4. Ask suppliers for packaging specs
5. Get your waste contractor to details what they can and can't recycle