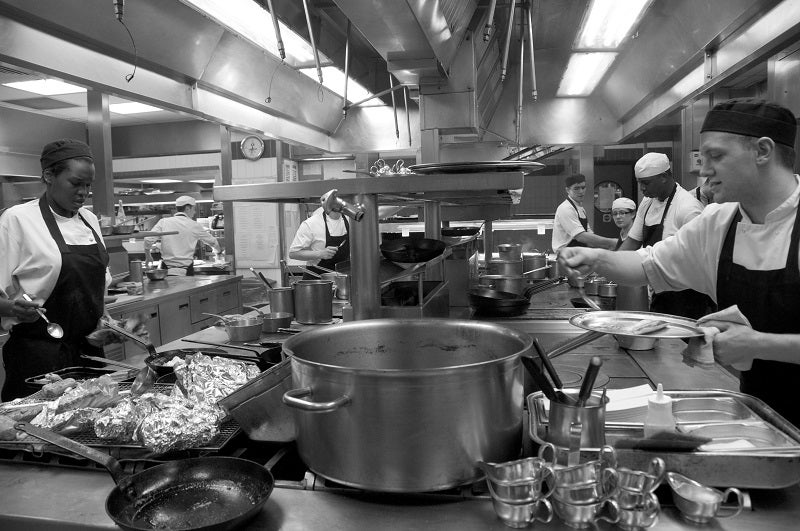 A report from think tank Centre for London has found that London restaurants need to reform chef education and training and improve work conditions to retain staff.
London's kitchens are struggling to employ and keep hold of chefs, with 10% – around 20,000 – of the UK workforce leaving the profession each year.
'Chef' is the most-in-demand job title across London on job website Indeed, with 21% of all UK chefs working in London. The report found although there is a growing demand for chefs, it has not been matched with an expansion and improvement of culinary education and training.
Out of 48 further education colleges 16 of them provide catering courses but many employers don't believe colleges prepare aspiring chefs with the skills they need to succeed in the workplace. In 2017-18 50% of London's chefs earned under £21,000 a year and 80% earned under £28,000. Taking into account inflation, hourly pay was no higher in 2017 than in 1997.
London restaurants are heavily reliant on migrant workers with 85% of London's chefs being born overseas; employing chefs could become more challenging with the uncertainty of Brexit.
Centre for London research manager and co-author of the report Nicolas Bosetti said: "Despite being home to some of the best catering colleges in the country, London's culinary education offer isn't specialised and high profile enough. And London is a chef apprenticeship dark spot.
"London's restaurants and colleges need to cultivate local culinary talent to maintain and grow the city's global and national reputation as a hub for culinary creativity and good food, and benefit its workers."
Restaurant industry weighs in
Marcus Wearing Restaurants, Tredwells and Group operations director chef patron Chantelle Nicholson commented on the report, saying: "The sensationalised TV shows do nothing but discourage parents from it being a viable option for their children. There are not many jobs in the world where you see the fruits of your labour on a daily, sometimes twice daily, basis."
Alyn Williams at the Westbury Mayfair head chef Tom Booton said: "It is always going to be a challenge to find good chefs, but you need to be able to see someone's potential, and then work with them to bring it out."
The Cinnamon Club and Roast founder Iqbal Wahhab added: "Restaurants need to break down the image of ludicrously long hours and aggressive work environments as somehow being character building when often the opposite is the case.
"We also need to recruit more widely from the talent pools around us whether that's ex-offenders, refugees or people on benefits."