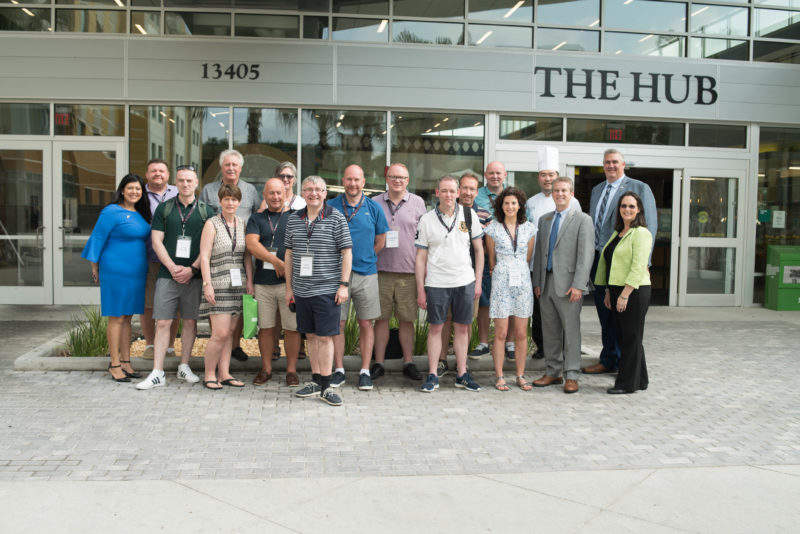 Last month saw catering equipment manufacturer Welbilt embark on a study tour in partnership with University Hospitality Seminars, which gave 13 delegates from UK universities, as well as suppliers and chefs, an insight into upcoming food and beverage trends, from locations such as the University of South Florida in Tampa, a back of house tour of a Royal Caribbean cruise liner and a vegan food trek in Miami.
A behind-the-scenes tour of the University of South Florida provided an opportunity for delegates to understand the catalyst for current US trends, some of which could potentially find their way to the UK in the coming months. Not only does the university have 25 food outlets across the campus in Tampa which serve over 4 million meals per year, but it also has an array of different cuisines on offer including Thai, Chinese, Indian, Italian, classic American and even Mongolian Barbecue.
The tour of the University also offered an insight into the latest trends such as vegan, plant based and vegetarian food offerings which is a prominent theme across the campus. Due to this rise in such diets and their subsequent continued growth, the main contract caterers for the university plan to offer a menu which is 75% plant based within the next five years.
Delegates were also given a technology inspired workshop within the Welbilt HQ which demonstrated how such food trends were easily accessible when using its Merrychef, Convotherm, Garland and Frymaster brands. During the workshop, delegates were given live-cooking demonstrations inspired by the menu items at the University of South Florida which highlighted the quality, quantity and speed at which different dishes could be produced when using the equipment.
As host of the trip Andy Daniels, culinary lead and brand specialist at Welbilt, was delighted with the success of the trip: "It was a fantastic study tour and demonstrated how inspiring and innovative university catering can be. This vibrant and progressive sector is at the forefront of introducing new food trends to the market so for the delegates, it was a great opportunity to not only see this first hand, but to discuss and bounce-ideas off of one another whilst in the very heart of such cutting-edge outlets.
"We were delighted to host this trip in partnership with University Hospitality Seminars and demonstrate how together, both Welbilt and universities can diversify food offerings within UK universities. We'd like to extend a huge thank you to everyone who attended the trip and we look forward to catching up with you all in the near future!"