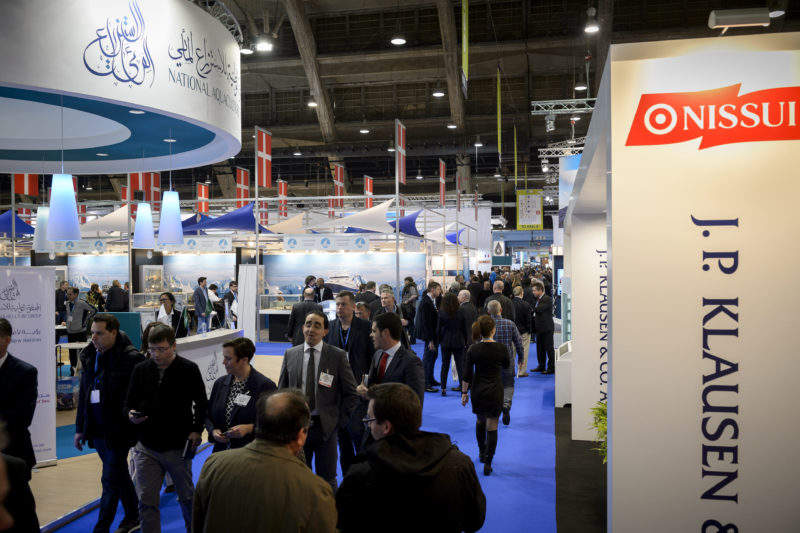 The Seafood Expo Global and Seafood Processing Global events are returning this year on 24-26 April in Brussels, Belgium and are expected to attract thousands of seafood buyers and suppliers from all over the world.
Last year's event set another record-breaking edition with more than 28,500 seafood professionals attending the event.  The event drew visitors from 150 countries and 1,859 exhibiting companies displayed their products during the three-day event.
"It's so exciting to see companies' growing interest in participating in the event," says Wynter Courmont, event director for Diversified Communications. "Records are meant to be broken. At this time, we are still receiving requests to exhibit in this year's edition and the event has surpassed last year's numbers in terms of exhibit space by more than 1000 m2."
Seafood Expo Global and Seafood Processing Global combined will feature exhibiting suppliers from 79 countries from every sector of the seafood industry. More than 70 national and regional pavilions will be showcasing their seafood products and equipment with new pavilions participating this year from Colombia (ProColombia) and France (Business France and Lorient Bretagne Sud).
Seafood Expo Global will highlight companies of fresh, frozen and value-added fish and seafood as well as processed and packaged fish and seafood in halls 5, 6, 7, 9, 11, the Patio and part of hall 8.  Halls 4 and 8 will host Seafood Processing Global representing every aspect of seafood processing, including: processing and packaging materials and equipment, refrigeration/freezing equipment and supplies, primary and secondary processing equipment, hygiene control/sanitation and seafood industry services.
Exhibiting companies will present their products to global buyers, including restaurants, supermarkets, hotels, catering services, importers, distributors, wholesalers, seafood markets and other retail and foodservice companies.
Seafood Excellence Global Awards
On the evening of Tuesday 24 April, Diversified Communications will host the Seafood Excellence Global awards reception, where the winners of the Best Retail Product and the Best Hotel/Restaurant/Catering (HORECA) Product will be announced. The awards recognise the best seafood products represented at the exposition. Special awards will also be presented for innovation, convenience, health and nutrition, retail packaging and seafood product line. All participant entries and winning entries will be on display at the Seafood Excellence Global stand in the Patio at the expo.