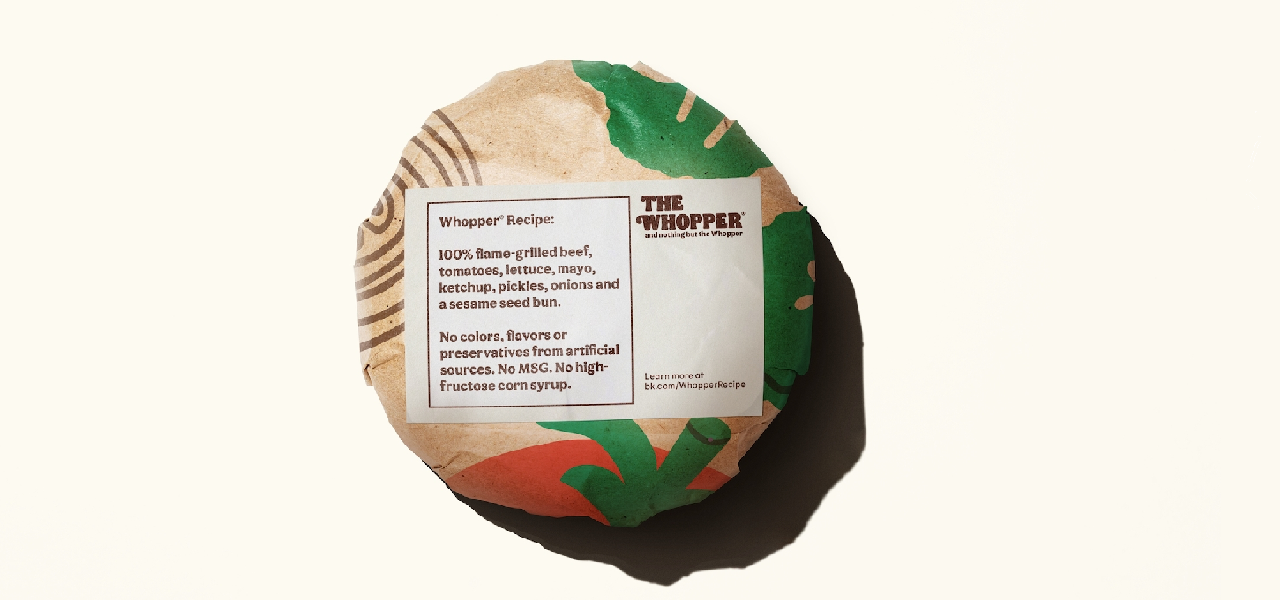 Fast food hamburger chain Burger King has removed all artificial colours, flavours and preservatives from its famous Whopper burger in all markets across the US.
It is the latest move by the brand to offer real food and quality ingredients for its customers.
To highlight the change, it is now featuring all the ingredients on the Whopper's packaging for a limited period of time.
Burger King said that 85% of its permanent food menu is now free of artificial colours, flavours and preservatives.
The company intends to make its entire food menu free of artificial ingredients by the beginning of next year.
Burger King Americas president Chris Finazzo said: "We put a lot of effort into the Whopper to make it taste great and the real Whopper free of colours, flavours and preservatives from artificial sources has the same iconic flame-grilled flavour that guests know and love.
"This announcement further highlights our commitment to serving delicious, affordable meals our guests can feel good about."
Burger King claims to have cut around 8,500t of artificial ingredients so far worldwide. Earlier this year, the brand removed all preservatives, colours and flavours from artificial sources from the Whopper in several European countries and a few US markets.
The brand's move towards a healthy and natural food menu is seen as an attempt to match the fast-food competition on natural ingredients.
In 2018, global fast-food chain McDonald's committed to removing preservatives, flavours and added colours from its classic burgers across 14,000 restaurants in the US.
Reportedly, fast food brands such as Taco Bell, Pizza Hut, and Subway have also similarly removed artificial ingredients from their menus in recent years.
Meanwhile, Burger King announced new restaurant designs earlier this month to provide an improved experience to guests amid the Covid-19 pandemic.
The new designs focus on offering flexibility and convenient options for guests to order and receive food deliveries.