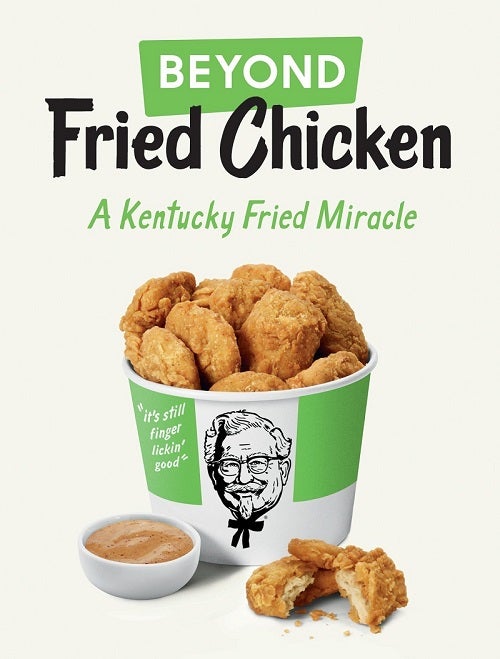 Fast food chain KFC is working in partnership with meat substitute company Beyond Meat to trial plant-based chicken in one of its US stores.
The one-day trial will take place in its Smyrna store in Atlanta offering customers 'Beyond Fried Chicken' nuggets in six or 12-piece combo meals. If the trial is successful and receives positive customer feedback, the company will consider a wider trial or potentially putting the meat alternative in its US menu.
The KFC and Beyond Meat partnership is the first of its kind in the US Quick Service Restaurant (QSR) space.
Beyond Meat has successfully introduced several innovative products across its beef, pork and poultry platforms that are being served in restaurants worldwide.
Canadian restaurant chain White Spot added the Beyond Burger patty to its menu this year and Del Taco partnered with the company to introduce Beyond Meat beef tacos. Additionally, Beyond went into partnership with The Authentic Food Co in 2018 to bring the Beyond Burger to the UK.
KFC US president and chief concept officer Kevin Hochman said: "KFC Beyond Fried Chicken is so delicious, our customers will find it difficult to tell that it's plant-based. I think we've all heard 'it tastes like chicken' – well our customers are going to be amazed and say 'it tastes like Kentucky Fried Chicken!'"
Beyond Meat founder and chief executive Ethan Brown said: "KFC is an iconic part of American culture and a brand that I, like so many consumers, grew up with. To be able to bring Beyond Fried Chicken, in all of its KFC-inspired deliciousness to market, speaks to our collective ability to meet the consumer where they are and accompany them on their journey.
"My only regret is not being able to see the legendary Colonel himself enjoy this important moment."