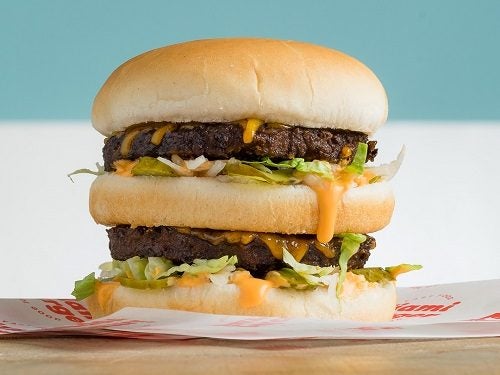 A new vegan burger is set take on industry giants in the UK, with the Miami Burger described as the 'healthier challenger' to its plant-based rivals Beyond Burger, Moving Mountains and the Impossible Burger.
Miami Burger currently supplies direct and through London distributors, London restaurant chains and Facebook headquarters but now wants to have a more national foodservice presence. There are currently two Miami Burger locations in the UK, Shoreditch and a test restaurant in Reading, and the product has launched in more than 280 Morrisons stores across the UK for customers this week.
Miami Burger food development chef Tom Halford said: "Our test kitchen pop-up restaurant in Reading, Berkshire has been a great place for us to showcase our food and trial new ideas.
"However our ambition now is to let restaurants, hotels, pubs and health/education authorities know their vegan option no longer needs to be a choice between disappointing Portobello mushroom burger or a high fat, oil laden, expensive fake meat burger."
How is the Miami Burger going to compete with its plant-based rivals?
The Miami burger is 100% plant-based, free from coconut and palm oil, and contains less than 1g of saturated fat.
While the Miami Burger is plant-based like its counterparts, it contains much less fat and calories; with only 6% fat and 167 calories, establishing the burger has been as a healthier option.
By using rapeseed oil to make its burger, the company ensures consumers are given the healthiest cooking oil that is available in terms of saturated fat. The burger's juicy texture is then achieved using water.
Halford added: "The market leaders have done an amazing job in giving plant-based consumers choice, but with 65% of the UK population overweight, we are here to offer everyone a genuinely healthy burger patty. It's great tasting plant-based food without the bad stuff."
Plant-based alternatives growing in popularity
Last year, producer Beyond Meat brought its Beyond Burger to the UK for the first time as part of its global expansion plan and it has since then been used by restaurants such as Byron and Honest Burgers in a bid to cater to the growth in vegan consumers.
Moving Mountains, the British brand leading plant-based innovation, teamed up with restaurant and cocktail bar Dirty Bones last year to launch the UK's first ever meatless 'bleeding' burger. Meanwhile, the Impossible Burger has seen success as another plant-based in UK restaurants as veganism grows more popular and fast food chain Burger King even launched the 'Impossible Burger' across the US in collaboration with Red Robin in April this year.