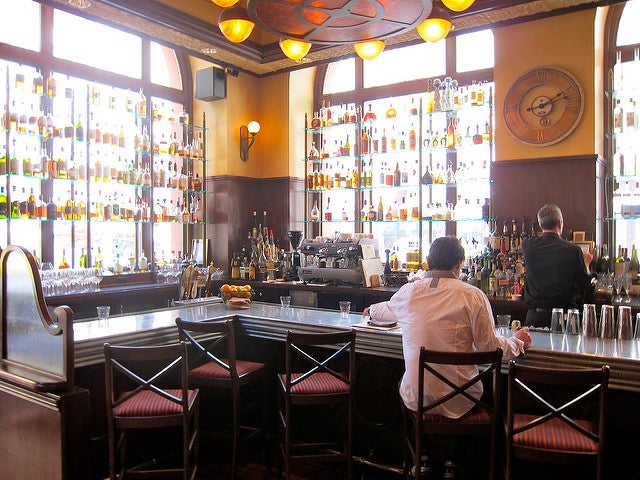 According to the latest figures from the Coffer Peach Business Tracker, like-for-like sales for January 2019 were down 1.8% for UK pubs and restaurants against the same month last year.
The tracker collects and analyses performance data from 49 operating groups, with a combined turnover of over £9bn, and is the established industry benchmark. It is produced by business insight consultancy CGA, in partnership with estate management company Coffer Group and audit specialist RSM.
Pubs and restaurants saw negative sales performance in January 2019. Pubs did marginally better with collective like-for-likes down 1.4% compared with restaurant chains down 2.5%. Like-for-like trading in London was down 1.9% compared with a 1.7% dip outside the M25.
There was a marked difference in London between the performance of managed pubs that were down just 0.5% and group-owned restaurants that were down 4.1% during January. The rest of the country's sales declined with pubs like-for-likes down 1.6% and restaurants down 2%.
CGA Director Karl Chessell said: "After strong trading over the festive season which saw sector like-for-like sales 4.1% up on 2017, operators will be disappointed that there has been no follow-through into January – even though the weather and in particular the lack of snow early in the month, was better than last year."
RSM head of leisure and hospitality, Paul Newman added: "Even if consumers went out to eat and drink in similar numbers, the increased uptake of Veganuary compared to last year reduced spend per head as diners opted for cheaper vegetable/plant-based dishes over meat options.
"Wet-led operators were also hit by the growing influence of Dry January with much of December's uplift being undone by these disappointing results. We expect discretionary spending on eating and drinking out to remain constrained as Brexit uncertainty continues to weigh on consumer sentiment."
Underlying like-for-like growth for the 49 companies in the tracker was running at 1.2% for the year to the end of January.